Lookie lookie, October already...
Can't believe September is over! We had a couple more busy weekends and the San Francisco indian summer has been in full effect, so we were able to enjoy wonderful weather on our outings.
First, we headed up to Tahoe for Chris and Fiona's wedding. The drive up was a little grueling (got caught in traffic and it took us five hours), but D was a champ through it all, despite arriving past his dinner time and being really tired of being strapped into his car seat. We were able to fit in a little hiking and enjoyed amazing views as we climbed over Emerald Bay to Granite Lake. We also had a nice time at the wedding, reconnecting with friends and enjoying the lake views as well as the wine handpicked by the couple.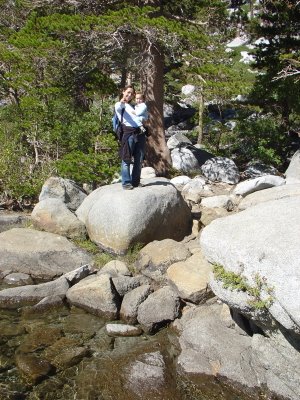 Then, it was off to Big Basin for a (cabin) camping trip with the M's and the DiZ's. I often forget just how amazing the park is and how lucky we are to have it practically in our backyard. The redwood groves are awe-inspiring, and well worth braving the windy roads required to get to the park. Our three sites were all adjoining each other, and we had a fire-hollowed redwood base at our site, providing great toddler adventures. The three kiddos had a wonderful time playing outdoors with logs, rocks and sticks as well as the two dogs. The adults split up the food duties and voila' - three gourmet meals a day! We had such a good time we'll have to turn it into a yearly tradition...